The Beatles
Todo mundo sabe que eu gosto bastante de música em geral, e aí no Brasil eu tinha uma coleção respeitável de mp3.. Como eu não queria me meter em encrenca com o Tio Sam e o seu
DMCA
, eu não trouxe as músicas para cá, e nem baixei nada por aqui. Ao invés disso, eu tenho restringido um pouco o que eu ouço, e tenho 
me virado com rádios online, e de quando em vez comprando um ou outro álbum via iTunes.

Mas uma banda que eu definitivamente não estou disposto a não ouvir por mais de um dia são os Beatles. Eu tive que diminuir a variedade das coisas que eu ouço aqui, porque eu não tenho acesso a tanta música. Mas, como eu não parei de ouvir os Beatles, proporcionalmente eu tou ouvindo eles muito mais seguido.
Enfim, estava eu ouvindo uma música deles em particular, e encaixou na minha cabeça com essa tirinha, do
xkcd
,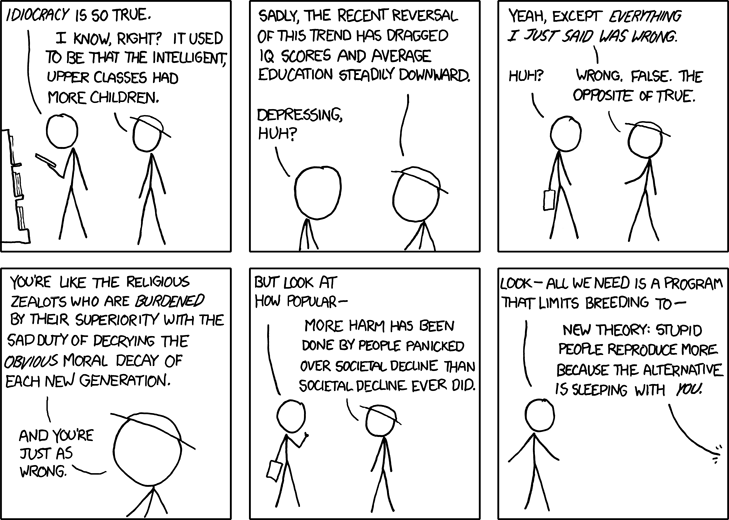 Alt text: "People aren't going to change, for better or for worse. Technology's going to be so cool. All in all, the future will be okay! Except climate; we fucked that one up"
Fora a obviedade de que xkcd é genial, essa tirinha me lembrou que em geral, a quantidade de reclamação que existe por aí é bem maior do que a quantidade de problemas. É claro que o mundo não é um mar de rosas, e que existem coisas seriamente ruins acontecendo. Mas, eu tenho a forte impressão de que se as pessoas passassem metade do tempo que elas passam reclamando e resmungando dos seus problemas
actually solving them
, rapidinho os problemas iriam se resolver! O problema é que todo mundo gosta de reclamar, porque é mais fácil justificar os problemas do que lidar com eles. Obviamente, todo mundo me inclui.
Enfim, voltando aos Beatles. Eis a música que me lembrou a tirinha (ou a tirinha que me lembrou a música):
There's nothing you can do that can't be done
Nothing you can sing that can't be sung

Nothing you can say but you can learn how to play the game

Nothing you can make that can't be made

No one you can save that can't be saved

Nothing you can do but you can learn how to be you in time

It's easy

All you need is love

All you need is love

All you need is love, love

Nothing you can know that isn't known

Nothing you can see that isn't shown

Nowhere you can be that isn't where you're meant to be

It's easy

All you need is love

All you need is love

All you need is love, love

Love is all you need

All you need is love (all together, now!)

All you need is love. (everybody!)

All you need is love, love

Love is all you need (love is all you need)
Me chamem de ingênuo, se quiserem, mas normalmente os cínicos que fazem esse comentário são exatamente as pessoas que, na minha opinião, passam muito tempo resmungando das desgraças da vida, e não vêem as coisas tris acontecendo por tudo que é lugar.
Fora isso, os Beatles são demais né? Cada vez que eu ouço mais coisa deles, mais eu me dou conta do quão fora da casinha eles são. E se vocês não acreditam em mim, tem um testemunho de um certo sujeito:
" [...] I didn't know it was art then, of course. I only knew that The Beatles were the most exciting thing in the universe. It wasn't always an easy view to live with. First you had to fight the Stones fans, which was tricky because they fought dirty and had their knuckles nearer the ground. Then you had to fight the grownups, parents and teachers who said that you were wasting your time and pocket money on rubbish that you would have forgotten next week.
I found it hard to understand why they were telling me this. I sang in the school choir and knew how to listen for harmony and counterpoint, and it was clear to me that The Beatles were something extraordinarily clever. It bewildered me that no one else could hear it: impossible harmonies and part playing you had never
heard
in pop songs before. The Beatles were obviously just putting all this stuff in for some secret fun of their own,  and it seemed exciting to me that people could have fun in that way. [...]
-- Douglas Adams,  excerpt from The Voice of All our Yesterdays"
Enfim. Eu acho que se preocupar um pouco menos e viver um pouco mais é sempre uma boa alternativa. Pra terminar, uma coisa aleatória que eu achei na Wikipedia, uma entrevista com o Paul McCartney, falando de Norwegian Wood e Day Tripper:
Reporter: I'd like to direct this question to messrs. Lennon and McCartney. In a recent article, 
Time
 magazine put down pop music. And they referred to "
Day Tripper
" as being about a prostitute...
Reporter: ...and "Norwegian Wood" as being about a lesbian.

Reporter: I just wanted to know what your intent was when you wrote it, and what your feeling is about the Time magazine criticism of the music that is being written today.

Paul: We were just trying to write songs about prostitutes and lesbians, that's all.
Hear, hear! Off to fling myself off of an airplane.
(eu já falei de como eu odeio o blogspot? Vocês não fazem

idéia

do trabalho que dá pra editar essas fontes de tamanhos diferentes, com a interface lixenta desse negócio... )